12/07/02
Well, I haven't done much on this journal since July and here it is December. The summer has come and gone. I had more tomatoes than I knew what to do with. And since they don't ripen until around the end of August here, I was still getting tomatoes after the first frost in October. I'm only part way done with my fall (now winter garden cleanup). I have divided some plants and moved others around. We put down bark on the pathways in the back yard and it looks really nice. The maple tree you see in the picture below was one that would get to be around 60ft tall and almost as wide, and would have a root system that would be a problem. Sadly, it had to be taken out. But we planted a beautiful sourwood that has nice fall foliage and fall flowers as well, which get to be only 25-35ft tall and are disease resistant. The trunk of the maple we made into a birdhouse post which we put in the back yard. I have gotten my first seed catalog already and will probably order veggie seeds for next year.
Front Yard
7/9/02
Put in a beautiful native shrub into my back yard called a cream bush. They flower just about now with frothy cream-colored lilac-like clusters. Can't wait till it gets bigger. Planted quite a few other perennials as well. Started trellising my scarlet runner beans and the gourds and the sunflowers are really growing. Found out this week that they planted the wrong kind of maple in my front yard and that it is a silver maple which gets upwards of 60ft tall and wide (much to big for my front yard). I was suspicious when I noticed it had grown over a foot since spring and the trunk diameter had increased by 1 inch since I moved in a year and a half ago. Talked to the city about what is needed to remove a tree. They came by and agreed with me. So we will probably be replacing it come autumn. We are thinking about a vine maple.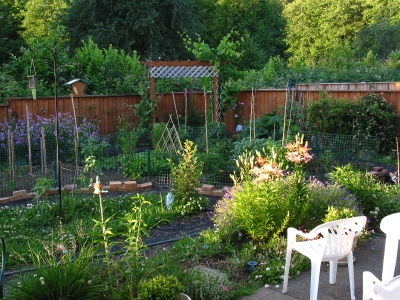 The Veggie Garden
6/23/02
Yahoo!! Started harvesting arugala. Love those summer salads!!! Also planted about 20 plants that were sitting on my front porch. Am I sore!!
6/6/02
We are now really rockin' & rollin' - have my tomatoes, tomatillos, more carrots, a bunch of herbs and this weekend we put in the beans, gourds and sunflowers. Then we water and weed until it's time to harvest or plant fall things.
5/28/02
Finally got the veggie garden rototilled this last weekend and paths laid out and got some onions, zukes and carrots planted before the rain started. Also went shopping and got many more plants!!
5/7/02
It is the first week of May and I have still not rototilled the veggie garden. However, I did build two berms in my front yard and planted them. (Looks very nice, if I do say so myself.) Aside from that, things are jumping. My daffodils have come and gone, the tulips are just about finished, forget-me-nots are all over the place, quite a few of the perennials have come up and are showng some buds and my trees are all just about leafed out, and my lawn needs cutting.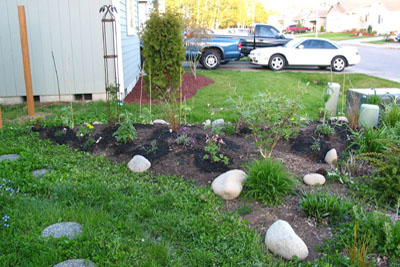 The Berm
4/19/02
Finally getting some nicer weather. Got out into the front yard to prepare the ground for the berm we want to build. We will be planting a vine on a trellis and some delphiniums, etc. there. Also got to start spreading some of the compost we got around in the vegetable garden area. Hopefully, I will get to rototill by next week.
3/29/02
Pretty day, off and on rain (well, this IS the Northwet.) Still pretty chilly. Got to get out inbetween the rain to fertilize a few other spots. My red flowering currant is starting to bloom and it is really attracting the hummingbirds. I got buzzed by an eager hummer. (If you want a really beautiful Northwest native, this is it.)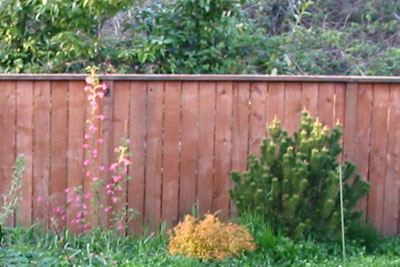 A Red Flowering Currant
3/22/02
This is more like it! Nice spring day in the 50's. Got to fertilize some of my shrubs and watch my kitties roam the back yard.
3/20/02
First day of Spring and it's.....Snowing!! Nasty!!
3/17/02
It snowed again last night, but it melted by noon. That didn't stop us from doing some weeding and fertilizing today. Pretty cold though. Will spring come this year??! The flowers seem to say so. I have crocuses, snowdrops and a budding daff.
3/16/02
Well, today we had planned to get some topsoil dumped and start spreading it into the site in my backyard that we have planned to put the vegetable garden. Instead -- IT'S SNOWING!!! I can't believe it. Mid March and we are having snow. Oh well, I guess we'll have to wait for another weekend. My housemate had planned to get started on revamping the compost area this weekend too.