Welcome to my gardening site. I have been gardening here in the Pacific Northwest now for about eight years. Before that I was in Southern California where, believe me, the gardening conditions are totally different. I went from being able to grow almost anything at most times of the year to having a real winter (albeit, a very mild one compared to my Midwest birthplace). I had my growing season much more restricted, dealing with late blight on my tomatoes almost every year and the dreaded Slug (yuk!) By now, I have become a fairly competent Northwest gardener and have come to love the shade garden. Of course now that we have a new house, we have little shade and have quite different conditions in various parts of my lawn. I'd like to share some of my experiences, passions, pictures and maybe even a few web links.
My first garden in the Northwest was in Kent, WA which is just a little south of Seattle. We lived in a condo where we had a wonderful shade garden, and did vegetable gardening in a community garden about a half mile from there. It was a lot of fun and I learned a lot about the Northwest.
A little over a year ago, we moved to Olympia, WA where we have a house and a fairly good size yard. The house was new, so we have had the challenge of putting in the landscaping. We moved in September, so all of the plants we took with us from Kent, we practically had to throw in the ground anywhere we could (really bad practice, but we did not have enough time to prepare the beds adequately before cold weather set in.) We worked really hard last year to improve the soil in the front of the house.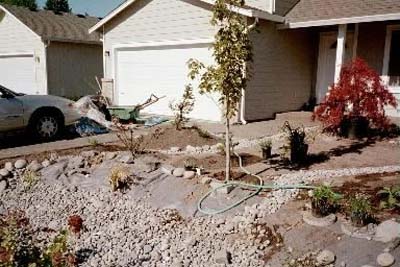 Front of House - 10/00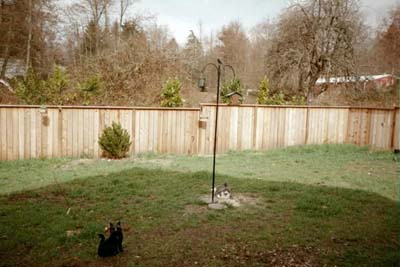 Rear of House - 10/00
If you want to see bad soil, you could come here. We are blessed with a combination of compacted soil from the builders driving their back hoes all over the place and our lovely Northwest glacial till. The soil also has every nutritional deficiency known to man. And, yes, by now we have rototilled compost, compost and more compost into the front yard (along with some fertilizer), and things are looking pretty nice, thank you. One serendipitous thing that happened last year was finding more than a few poppies coming up in my yard (I have no idea where they came from -- the only thing we could figure out was that they may have either been in a load of topsoil we ordered or they came in the compost we brought with us)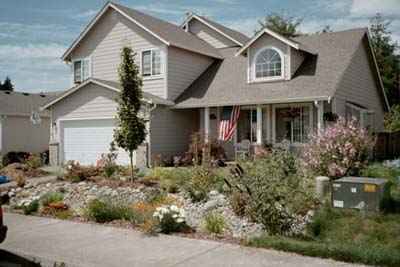 Front of House - 7/01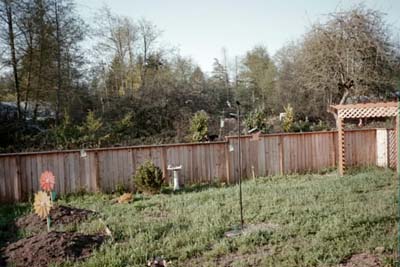 Rear of house - 7/01
This year, we plan to really start working on the back yard. My design plans for the back yard have already undergone Numerous revisions, although the constant has been the large vegetable garden we plan to set out. We got too busy with the front to have a vegetable garden last year, but we are making it the first priority this year. Around the end of March we will have someone rototill some good compost, etc. into the area I want to use. Then we will start building the veggie beds.
Next year we will probably devote to completing the other half of the back yard. We hate lawns and are trying to maximize the country garden look -- lots of flower beds and a whole section for Northwest native plants in my back. That should keep us busy!